Camp Arowhon
Algonquin Park, Ontario, Canada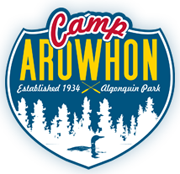 Type:
Overnight
Gender:
Co-ed
Ages:
6 - 15
Contact Name:
Mara Kates
555 Eglinton Avenue West
Toronto, ON - Ontario, Canada
M5N 1B5
mara@camparowhon.com
4169759060
Visit Website
Camp Arowhon's Social Media:FacebookInstagram
Visit Website
Activities
Archery, Arts and Crafts, Baseball, Basketball, Canoeing, Climbing Wall, Dance, Fishing, Fitness, High Ropes, Hiking, Hockey, Horse Back Riding, Kayaking, Low Ropes, Music, Paddle Making, Pottery, Racquet Sports, Rock Climbing, Sailing, Singing, Soccer, Softball, Swimming, Tennis, Theatre Arts, Volleyball, Windsurfing
Live, work, and play in a beautiful wilderness setting!
Our mission is to nurture and challenge children, both physically and emotionally. Our community of 350 campers is big enough to be diverse but still feels like a family. Our team of 150 staff means that the campers get a ton of individual attention, and you have a whole bunch of like-minded people to hang out with.

At Arowhon, you will receive professional training and expert support and supervision. You will grow yourself while you help children grow. You will leave feeling proud because you made campers feel proud of themselves.
Nearby Places to Stay